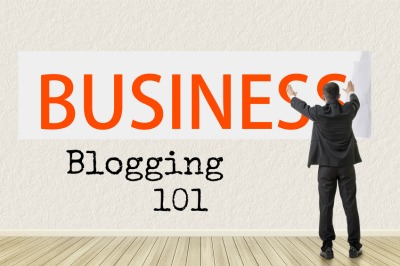 Like many business owners, you might not see the immediate benefit of starting an on-site blog associated with your online operations. In fact, you may balk at the amount of work that goes into the upkeep for such a project, not the least of which involves penning daily posts that provide added value for readers. After all, you're busy just managing your business.
But at some point, you realized the importance of creating a website, using social media, and expanding your online presence. And you'll find that there are also plenty of benefits that come with starting an on-site blog.
For example, it provides an incredible avenue for constant updates that include keywords and the opportunity for sharing and inbound links. If you already perform SEO for your website, then you know that this is great for raising your page rank, getting found by search engine users, and increasing your traffic and potentially, your sales.
But when it comes to business blogging 101, the bigger impact could result from the opportunity a blog gives you to connect with customers in a personal way and offer them added value. Whether you use it to offer information, entertainment, product tutorials, or all of these and more, your blog provides another means of reaching customers and inspiring brand loyalty.
First you have to create your blog, though. And this can be tough for busy professionals that don't have the appropriate knowledge or skillset. If you need a crash course in business blogging 101, this is the place to get started.
Why Your Business Needs a Blog
Unless you relish the idea of constantly updating the content on your website, you'll find that there's no better way to keep up with trending keywords and increase inbound links than by adding a business blog to your site. Blogging provides you with ample opportunity to stay on top of what is trending and take advantage on behalf of your business. And when you link to social media pages as well, you multiply your opportunities to bring traffic to your site.
But there's a lot more to business blogging than simply increasing target numbers. Keeping customers happy is business blogging 101. And you can do this by offering timely and useful content to your readers. By providing product tutorials, offering insights on industry happenings, interviewing experts, and more, you can add value for current customers and connect with prospective customers, developing relationships and encouraging patronage.
And of course, there is the aspect of sharing to consider. Whether you create infographics, videos, or other easily sharable content, you stand to increase viewership significantly when your readers do the heavy lifting for you by sharing and reposting blog content.
How to Get Started Blogging For Your Business
Business blogging requires a certain level of finesse. It's not enough to choose relevant and timely topics; you also need to write in a style that is authoritative, yet interesting to readers. It's a fine line, and it's all too easy to miss the mark, especially for inexperienced writers.
You'll want to start with blog topic creation, and this can be difficult in and of itself. But if you have evergreen blog content ideas (which is to say, topics that are always relevant) on the back burner, you can use the news of the day or new products and services to drive the majority of content on your blog and still have topics on hand when other avenues are less than fertile.
The trick, though, is to develop a voice, one that readers can connect to. Finding ways to exhibit the passion you have for your industry can really help to promote you as an authority in your field, as well as engage the interest of readers.
Setting Clear Objectives and Realistic Expectations
While business blogging 101 tells us that an on-site blog will deliver results over time when properly managed, this doesn't necessarily impart exactly what to expect when you start a business blog. And it's important to set clear objectives at the outset and keep your expectations realistic if you don't want to face disappointment.
Objectives will vary from business to business, but common aims include connecting with and retaining customers, increasing traffic and sales, offering added value through education and entertainment, becoming a noted authority within your industry, encouraging sharing, and even forming an online community. You may share one or all of these goals, and you should prioritize their importance.
As for setting realistic expectations, this can be hard to do at the outset since you have no benchmark for success. The best bet here is to establish a pattern for growth over the first year. Since you'll have something of a learning curve to grapple with anyway, this should help you to set realistic expectations for the future of your blog.
Create Customer Personas
Customer personas go a bit beyond business blogging 101 in that you really need to start with training wheels before you ride the bike. In this case, that means you have to become accustomed to writing frequently before you can really find a voice.
But you don't have to go it alone. Your employees can help you here. If one of your goals with a business blog is putting a personal face on your company, business blogging 101 dictates positioning the faces behind the corporate facade front and center.
Just as your customers represent a variety of demographics, so too do your employees, who come from different backgrounds, ethnicities, genders, religions, and socioeconomic situations. They also focus on different aspects of your business and your industry. So right away you have an array of personas at your disposal. And they can speak to the various demographics you service by presenting their unique viewpoints related to the topics you choose.
Essential Business Blogging 101 Ingredients: Keyword Research and SEO
Of course, the main thing you have to focus on when you begin with business blogging 101 is getting consumers in the door. Your blog will not serve you well if nobody knows it exists.
Search engine optimization (SEO), and keyword research in particular, is essential to reaching the consumer public and letting them know that your blog is the premiere source for industry knowledge and goings-on. When you stay abreast of trending keywords relating to your content, you have a much better chance of being found by both search engines and their users.
Whether you opt to manage your business blog yourself or you decide to hire help, you cannot forego the advantages that only SEO can provide. Without keyword research and overall optimization and blog post promotion, you may as well be operating in the dark. That's just business blogging 101.